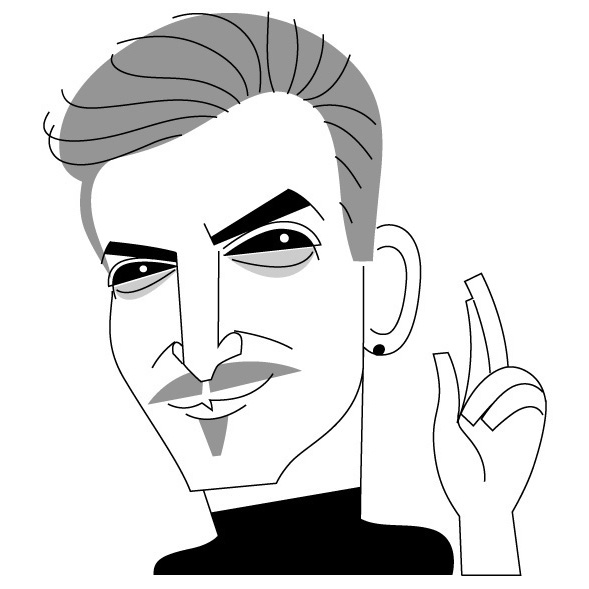 WHAT PEOPLE ARE SAYING ABOUT DAILY AFFLICTIONS:
"Steely words of wisdom."
—BOOKFORUM
"Delighfully lean and smart send-up….Great common sense tonic."
—BALTIMORE SUN, Editor's Choice
"A wicked-wise…oddly bracing (and timely) spiritual-philosophical work."
—ELLE
"Perversely enlightening."
—AUSTIN CHRONICLE, Katherine Tanney [full text]
"I just got the book this weekend and read it from front to back in a feverish 4 am session. Brother Void somehow combines the ideas of Nietzsche, Buddha, Camus, Gandhi and Lenny Bruce into a paradoxically coherent worldview that sums up everything I feel and think about politics, sex, drugs, love and hope. "Daily Afflictions" is often angry, morbid, and bleak – and it is the most inspirational thing I have read in years."
—GUERRILLA NEWS NETWORK, Anthony Lappe
(Brother Void awarded "Guerrilla of the Week")
"Paradoxically encourages not only awareness, but also curiosity, humor, fearlessness, and responsible action."
—UTNE READER, Chris Dodge
"Manages to skewer the increasingly vapid daily-meditations form and impart some damned helpful (and grown up) wisdom."
—SF CHRONICLE, Stephanie Salter [full text]
"A surprisingly bracing assortment of existential notions…you'll find some genuine eternal wisdom here."
—SALON.COM, Laura Miller [full text]
"Underneath the dark humor, Boyd offers inspiration and guidance."
—NEW AGE JOURNAL
"Angel foodcake accidentally baked with pure human sorrow."
—FLAK MAGAZINE, James Norton [full text]
"Smart, modern, self-mocking and deeply meaningful."
—SANTA CRUZ SENTINEL, Chris Watson
"If this catches on, it could put the Catholics out of business."
—FLAUNT MAGAZINE
"A master satirist…One of the most worthwhile and committed humorists working in America today."
—THE CAPITOL TIMES, John Nichols
"Eminently quotable…Reconfigures the tired nostrums of the New Age to fit the needs of our half-empty times."
—WILLAMETTE WEEK, Steffen Silvis
"Manages to hit the hard truths about life."
—MUZE INC.
"I loved Daily Afflictions… its wisdom and humor….It truly touches so many issues that I deal with as I counsel people confronting their mortality….Who is Andrew Boyd, and where is he being treated?"
—BERNIE SIEGEL, Famous author who hugs
"An Alan Watts for people who live their lives inside quotation marks, Brother Boyd teaches us to work through our irony, turning irony about irony into sincerity, even profundity. And I mean that from the bottom of my heart."
—MARK DERY, Author who should be famous but isn't (doesn't hug much, either)
"Daily Afflictions is a strange and amazing work. Do not be fooled by its size. It is gravely amusing and glitteringly serious; you could not ask for a better navigator than Andrew Boyd through this world of beauty and sadness."
—DAVID RAKOFF, Author of Fraud
"Spiritual wisdom with brains and a backbone, and a funny-bone as well."
—WES "SCOOP" NISKER, Author of Crazy Wisdom
"Forget Chicken Soup for the Soul; Daily Afflictions is ammonium nitrate for the soul, calculated to reduce your most comforting self-delusions to scattered atoms."
—MARK DERY [again]
"If there was ever a book for the times that could also survive the times, it is Daily Afflictions."
—FLAUNT MAGAZINE [again]
"Brother Boyd puts the odd back in God."
—REVEREND BILLY
"His psalms ring frighteningly and hilariously true."
—HARD-WORKING PUBLICIST
"A metaphysical David Sedaris."
—SOME PERSON
"It's like Dave Barry swallowed Deepak Chopra, but better."
—SOME OTHER PERSON