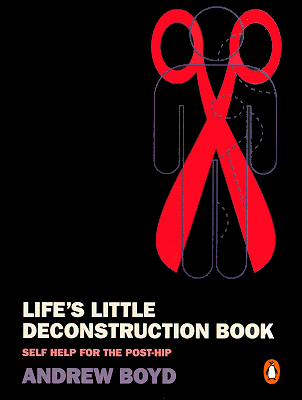 LIFE'S LITTLE DECONSTRUCTION BOOK: Self-Help for the Post-Hip
(W.W. Norton & Co., 1998, softcover, $7.99)
(Penguin, 1999)
Portable Po-Mo, Disposable Derrida, Foucault-To-Go.
This tiny manual provides an introduction to theoretical posturing, a commentary on post-modernism, a subversive satire, and a tribute to the love-hate relationship many of us have with fashionable ideas—all in a very few words.
Voted Best Humor Trade Paperback of 1998 (by someone at the Columbus Dispatch who wouldn't return my calls).
Purchase @ amazon.com.
Read an excerpt.
Add your own.
Use it in the classroom.
How this book saved Western Civilization. (And how you can too.)
"Encapsulated my undergraduate education…for a fraction of the price."
—satisfied customer on amazon.com.
"Hey kids, look! It's DerriDada, Holzer on the half-shell, The Little Red Book meets Baudrillard. Andrew Boyd has freeze-dried several decades of po-mo theory and avant-pop into koan-like statements that are fun to ponder, debate, and snicker over. Don't be caught at the cyber cafe without Life's Little Deconstruction Book in your laptop bag."
—Gareth Branwyn, WIRED