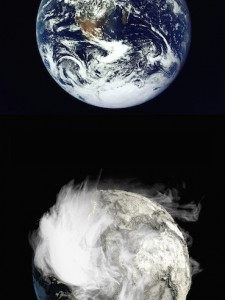 An excerpt was published in Dark Mountain 11, under the title "Twelve Characters in Search of an Apocalypse." Now, I'm trying to get the rest of the book done before any of them actually find it…
I WANT A BETTER CATASTROPHE: A guide to the 21st Century for tragic optimists, can-do pessimists, and compassionate nihilists.
     "An existential roadmap through our climate predicament."
     "The Zen of Global Warming."
     "An 'ethical menu' for the apocalypse."
     "Survivalism, meet Existentialism."
In this grave and irreverent philosophical manual, Andrew Boyd, author of the underground spiritual classic, Daily Afflictions, stares down the 21st century.
With global temperature rise set to blow past the 2°C limit, this life-long activist is thrown into a crisis of hope, and on a quest to find out how leading thinkers and everyday folks alike are grappling with the "impossible news" of our climate doom.
The responses are as diverse as America itself. Defiance: "I'm gonna drown with my boots on!" Self-preservation: "Sure, the apocalypse is gonna happen, but it's gonna happen to somebody else." Nihilism: "I'm going to party like it's 2099." Faith: "I have kids, hopelessness is not an option." Pragmatism: "I want a better catastrophe."
Boyd's journey takes him from storm-battered coastlines to pipeline blockades to Energy CEO boardrooms to "hopelessness workshops." Along the way, he walks himself and readers through the 5 stages of climate grief, "end-games-out" our existential options, and gamely tackles some familiar dilemmas — "Should I bring kids into such a world?" "Can I lose hope when others can't afford to?" and "Why the fuck am I recycling?"
As hope and hopelessness collide, paradox ensues, and Boyd offers us a broadside of gallows-humor life-advice — as well as a few surprisingly helpful flowcharts — about how to live on the cusp of catastrophe.
No one, it turns out, is more beset by dread than those most familiar with the facts: the climate scientists and activists themselves. But if catastrophe is truly unavoidable, Boyd asks, what are we actually fighting for, and why? He finds answers that will both surprise and inspire, and might even make you laugh.
Filtering these first hand stories through the lens of wisdom traditions of both East and West, Boyd crafts an insightful guide for the apocalypse-challenged.
Maybe another end of the world is possible? Maybe hopelessness can save the world?