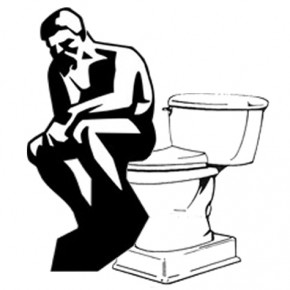 READERS: ADD YOUR OWN.
TALK SHIT ABOUT YOUR FAVORITE PHILOSOPHER.
ENTRIES SO FAR:
Diogenes — I will shit in public.
Luther — I can shit myself; I do not need the church to shit for me.
Benjamin — Mechanical shit is without aura.
Habermas — All shitting presupposes the ideal shit situation.
Cicero — What times! What shitting!
Einstein — The time space coordinates of a piece of shit depend on the motion of the observer of that piece of shit.
Dewey — Shit is what shit is experienced as.
Croce — Shit, thinking about shit, and the difference between shit and thinking about shit, are all part of the same shitty experience.
[YOUR ENTRY HERE…]